Walker Century Farm
Dickinson County, Iowa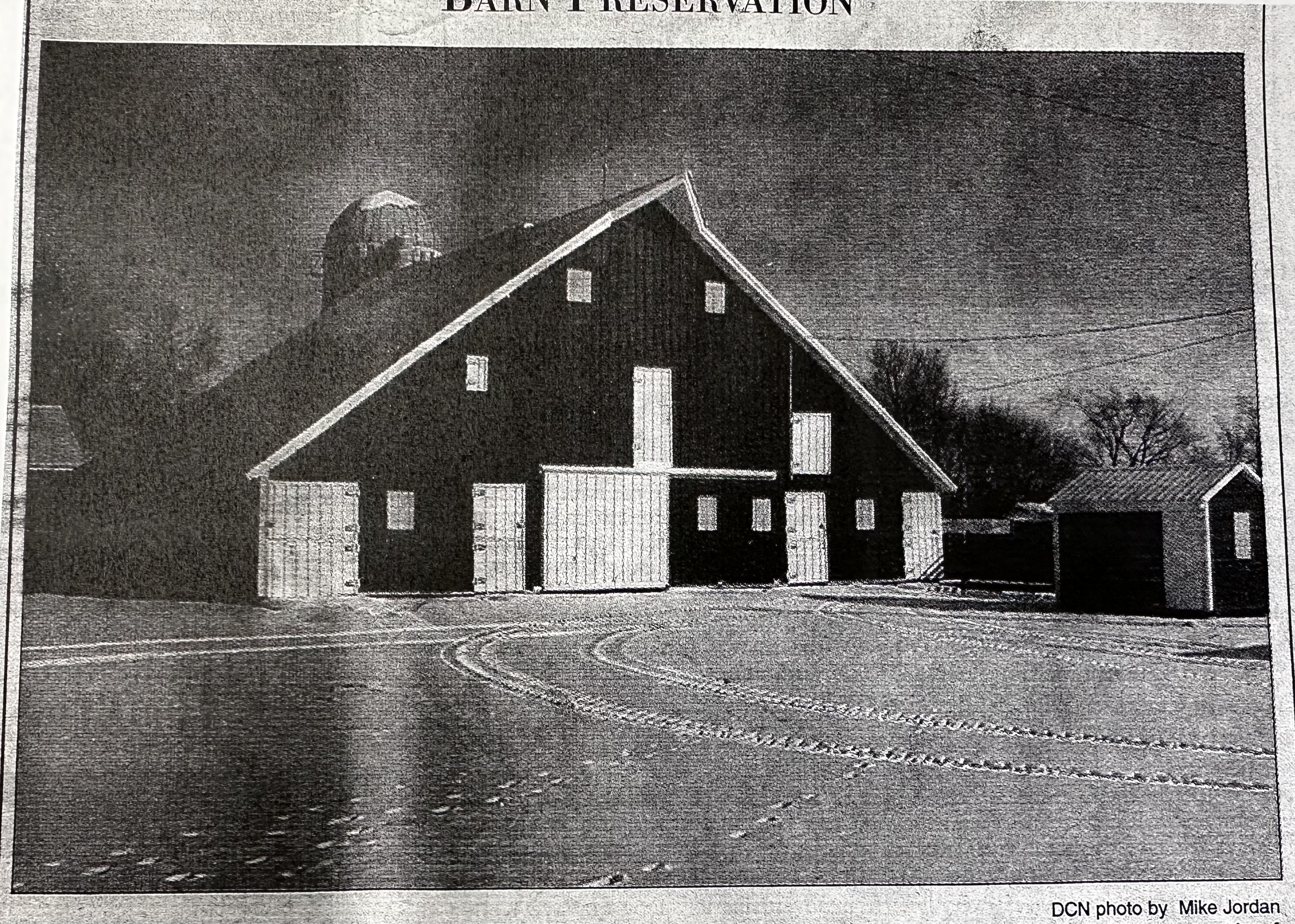 On the Walker family farm stands a 100 year plus old barn. Located just a few miles off the Minnesota border. Preserved and restored by Bernell "Bud" Walker but originally built by Bud's grandfather.
Bud learned from his father, who in turn, learned from his father, how to preserve and maintain their farms. Carrying on the Walker family tradition Bud's son, Bruce and his family, and his daughter, Bernita Andersen and her husband, Jim and their family also farm in the area. Pride in family farming was a trademark of Bud and his wife, Betty, and they passed it on to their children by investing in a legacy of family farming. "My dad used to love to go around and look at his animals and the farm almost every day," Bud said, "He was proud of what he had built up here. I love to do that too. I'm proud of the farms we have built up and the way we were taught to take care of them."
Originally purchased in 1902, the Walker family celebrated their Century Farm status in 2002. The farm is located in Dickinson County, Iowa near Lake Park with all of its original 160 acres intact. The land was purchased by Bud's grandfather, Charlie Walker, after he left Sweden in the early 1890's joining his brother already living in Holstein. Trapping and trading in the lakes and sloughs of Dickinson County provided an income and the brothers began to prosper. It was in this area near Skunk Lake (now dry) that Charlie met Bertha Horn and it wasn't long before they were married and moved to what would soon become the Walker family farm. The land had five very good trapping sloughs for mink and muskrat and was close to Bertha's family.
Through harsh winters, the young couple prevailed and started a family of five children. Lizzie, Bertha, Lilli, Charlie Jr., and Henry all eventually farmed near the Walker place. Over the years the farm added cattle, hogs, sheep, and horses to the operation but mostly they grew corn, soybeans, and alfalfa. But one of the more interesting stories was when Charlie and Bertha received a Durham Cow as a wedding present. Over the years, Charlie crossbred that cow with their Black Angus cattle and eventually ended up with an unusual crossbred herd of what came to be known as Skunk Cattle. Black stripping down their backs and speckled white and black hindquarters, tail, and fronts. "My dad's pride and joy were the Skunk Cattle. They are very unusual, high quality cattle with gentle dispositions."
When times were tough, Charlie worked for the railroad. He also kept horses for the railroad in his barn; the original barn that still stands there today.
After Charlie's passing, his youngest son, Henry, took over the farm and purchased it from his siblings for $100 per acre in 1944. Henry and his wife Evelyn Voss Walker had but only one child, Bernell, otherwise known as Bud. Bud married Betty Hansen of Lakefield in 1951 and 8 years later the two began farming and later inherited it upon his father's passing.
Bud and Betty had three children, Bruce, Brian, and Bernita (Andersen), and five grandchildren, Amy Dressel, Lisa Mustard, Jason Walker, Michael Andersen, and Melissa Desai. A legacy of farming worthy of the Century Farm status they earned.
Corn to Whiskey